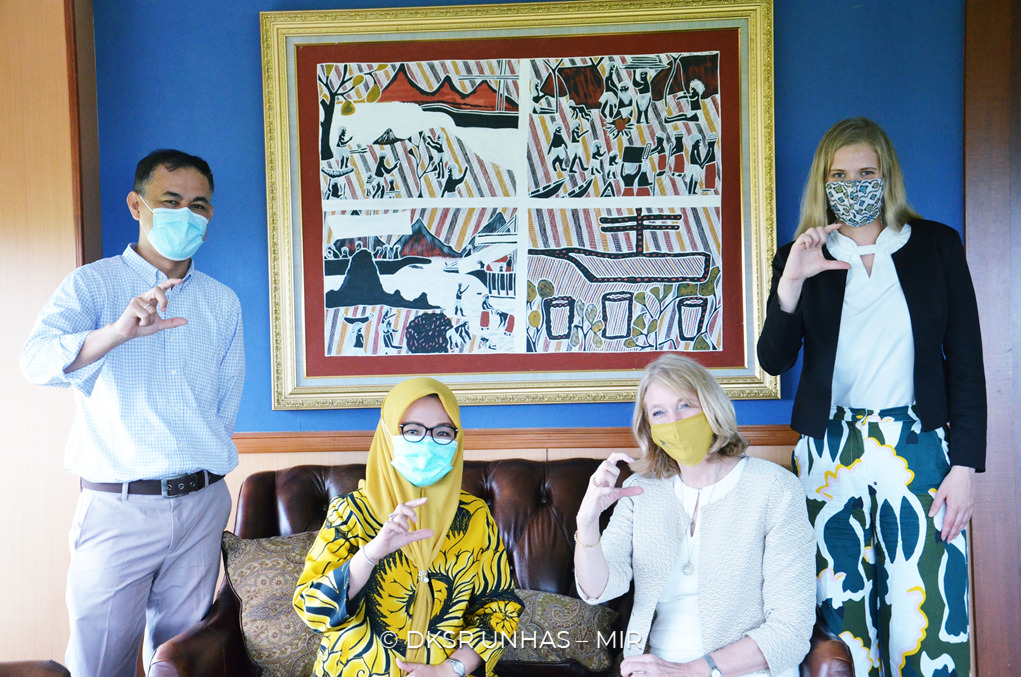 The new Australian Consul General in Makassar, Bronwyn Robbins and her entourage met the Rector of Universitas Hasanuddin (Unhas), Prof. Dr. Dwia Aries Tina Pulubuhu, MA. The meeting took place at Lt. 8 Unhas Rectorate Building at 10.00 Wita in the Unhas Rector's Room, on Thursday (01/10).

Bronwyn Robbins is the second Australian Consul-General in Makassar after Richard Mathews. She is officially on duty on 21 June 2020.

During the visit, The Rector of Unhas, Prof. Dr. Dwia Aries Tina Pulubuhu, MA., welcomed Bronwyn's arrival. According to her, Australia and Unhas are excellent partners with various collaborations that have been carried out.

"Unhas is heavily involved in various collaborative activities with Australia, for example the PAIR and RISE programs. We certainly hope that this collaboration can be developed in other fields," explained Prof. Dwia.

Furthermore, Prof. Dwia also explained to Bronwyn regarding the achievements of Unhas' performance as an educational institution. Prof. Dwia hopes that the Australian Consul-General can support various efforts made by Unhas to be better.

"This year Unhas ranks 7th as the best university in Indonesia. For an international scale, Unhas is in the 1000 best campuses. We continue to encourage this achievement and we hope that the Australian Consul-General can help us to promote Unhas. Not only that, we also play an active role in regional development by opening vocational classes in several districts in South Sulawesi," said Prof. Dwia.

On the same occasion, Bronwyn expressed her gratitude for the warm welcome given by the Unhas Rector. She hopes that the relationship that has been well established can be strengthened by conducting various collaborations.

"It is a pleasure to meet this woman who is the first female Chancellor of Unhas, as well as me as the first female Consul-General. Unhas is one of Australia's important partners and is happy to be working with Unhas," explained Bronwyn.

According to Bronwyn, the achievements of Unhas were extraordinary. This can be seen from the footsteps of alumni who have contributed to improving the welfare of the nation and state of Indonesia. She hopes that the cooperation between Unhas and Australia can be further enhanced in various fields.

In addition to discussing the cooperation between the two parties, there is also discussion on the historical relationship between Australia and Indonesia, especially Makassar and the Covid-19 pandemic issue.

The warm visit ended at 11.30 WITA which was closed with an exchange of souvenirs from the two parties. (*/Mir)

Editor: Ishaq Rahman, AMIPR
Head of sub-directorate of Public Relation and Information
Directorate of Communication Hasanuddin University
Translator: Kumara Tungga Dewa and Karmila Mokoginta