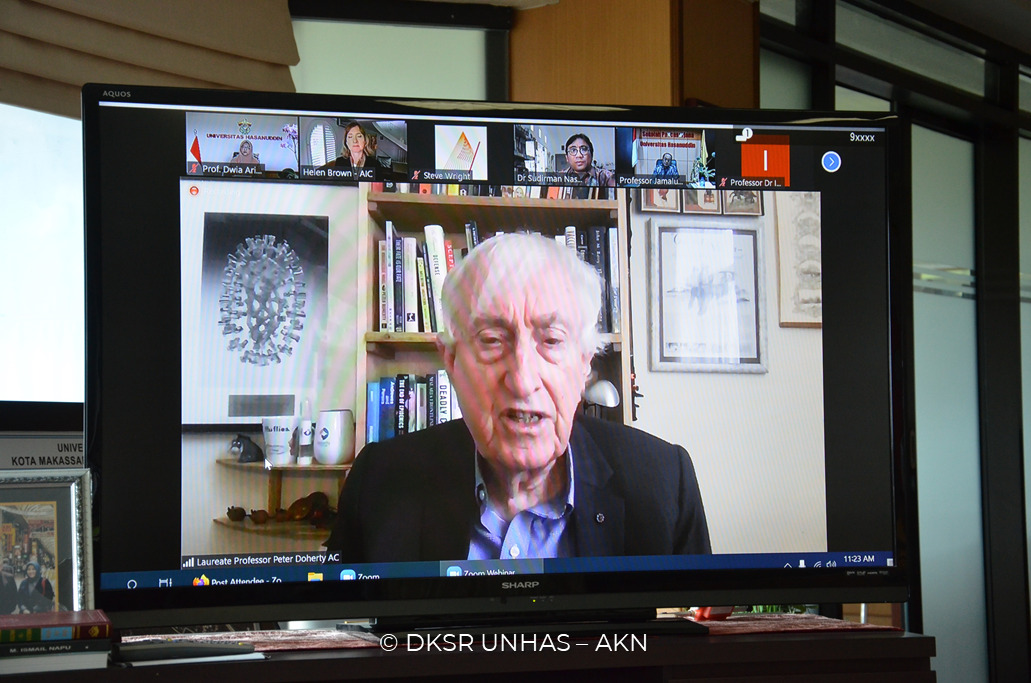 The Partnership for Australia-Indonesia Research (PAIR), in collaboration with the Australia Indonesia Center (AIC) and Universitas Hasanuddin (Unhas), held a two-hour inspirational webinar, which discussed the role of science in tackling Covid-19.
The webinar started at 11.00 WITA, on Tuesday (22/9) and carried out virtually through the zoom meeting application. The themes discussed were "Nobel Laureate Talks on the Importance of Science in Covid-19: Discussing Covid-19 Through Interdisciplinary Approach" and "Nobel Was Born in the Archipelago: The Importance of a Scientific Personality."
The first session of the webinar was delivered in English and by a phenomenal resource person, Prof. Peter Doherty AC, the Nobel Prize Winner in Medicine in 1996. Prof. Doherty is a patron of the Doherty Institute and Immunologist, Australia.
This session also involved the other two speakers as discussants, namely the Rector of Unhas, who is also a sociology expert (Prof. Dr. Dwia Aries Tina Pulubuhu, MA), and the Dean of the Graduate School of Unhas, who is also a professor in the field of Ecology and Maritime Management (Prof. Dr. Jamaluddin Jompa).
The second session of the webinar was presented in Bahasa by Prof. Sangkot Marzuki, AM., (Director of the Eijkman Institute) and Prof. Irawan Yusuf (Member of Indonesian Academic Sciences, who is also a professor of medicine at Unhas).
Starting the activity, The Rector of Unhas, Prof. Dr. Dwia Aries Tina Pulubuhu, MA., expressed her gratitude for Prof. Peter's willingness to provide views and ideas about Covid-19, which has had an impact on all aspects of human life.
The Covid-19 pandemic is a challenge for scientists. Until now, efforts to deal with this outbreak have been continuously carried out, starting from research development to social strengthening.
"Covid-19 does not only involve one scientific discipline. Collaboration is needed to provide solutions that are expected to answer the current nation's challenges. We hope that this discussion will provide a clear view of the complexity of the Covid-19 problem," explained Prof. Dwia.
Laureate Professor Peter Doherty AC gave a view regarding the Covid-19 in the field of immunology. According to this Noble Prize Winner, handling Covid-19 requires many elements and requires proper handling by taking a scientific approach as a basis.
Meanwhile, Prof. Irawan Yusuf (Member of the Academic Sciences of Indonesia) explained the importance of academic culture to generate scientific leadership in encouraging efforts to educate the nation by promoting breakthroughs according to current development.
The activity that was part of the 64th Anniversary of Unhas and supported by the Indonesian Youth Academy of Sciences (Akademi Ilmu Pengetahuan Muda Indonesia/ALMI) and the Australian Alumni Association in Indonesia, South Sulawesi Chapter (Ikatan Alumni Australia/IKAMA) went on smoothly until the end of the event at 13.00 WITA. (* / Mir)
Editor: Ishaq Rahman, AMIPR
Head of sub-directorate of Public Relation and Information
Directorate of Communication Hasanuddin University
Translator: Kumara Tungga Dewa and Karmila Mokoginta