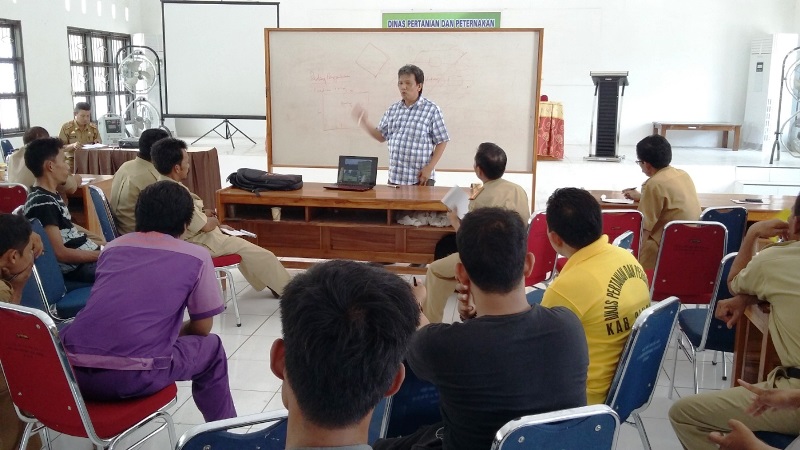 Prof. Dr. Ir. Jasmal A. Syamsu while bringing a presentation in the Pinrang Regency. (Photo:ist)
Faculty of Animal Husbandry Unhas conducted an IBW (Knowledge, Science, and Technology for Regions) in the Sub-District of Mattirosompe, Pinrang Regency. The event acts as one of the Unhas attempts through the Research and Community Service Institution (LP2M), to construct the Regional Mid-Term Development Planning (RPJMD) in the Pinrang Regency.
Head of the IBW Implementation team, Prof. Dr. Ir. Jasmal A. Syamsu stated that the IBW Program, a program under the Ministry of Research, Technology, and Higher Education Institution focuses on the independent development through the advancement of livestock integrations, crop agriculture, and fisheries.
"The IBW conduct that embraces such a topic is a systematic attempt to explore and utilize all of the resource potentials that are contained by the society, becoming a product with elements of superiority, with the introduction of knowledge and technology provided by higher education institutions. Through the shift of technology and guidance, it is hoped in the future that the local governments are able to coordinate and eventually raise the welfare of the community," stated Jasmal A. Syamsu.
There are three strategic programs that are conducted that include Community Capacity Development, Knowledge Capacity Development, Skill and Control over Agricultural Crops Technology, Livestock, and Fisheries, as well as the Program of Product Development and Marketing of Crop Yields, Livestock, and Fisheries.
The program of agricultural development in the Pinrang Regency is known to become a strategic program directed for the aims of community welfare increase through the solidification of agricultural products, stable prices, market control, and the productivity growth of crops and livestock through agro-business. The Regional Mid-Term Development Planning vision of Pinrang Regency 2014-2019 is also hoped to be realized. The section states of the aim to achieve dynamic community welfare through the harmonization of life, acceleration of regional productivity, and the revitalization of the primary axis role towards the fulfillment of National food demands.
Several trainings that have taken place includes the Community Development and Capacity Building, preservation management of beef cattle, processing of animal waste becoming biogas and fertilizers, straw waste processing of crops and corns as woof.
The IBW is conducted starting from 2016 and planned to be maintained for a period of three years with the support and cooperation of the Pinrang Regency, specifically the Department of Agriculture and Animal Husbandry, Pinrang Regency.