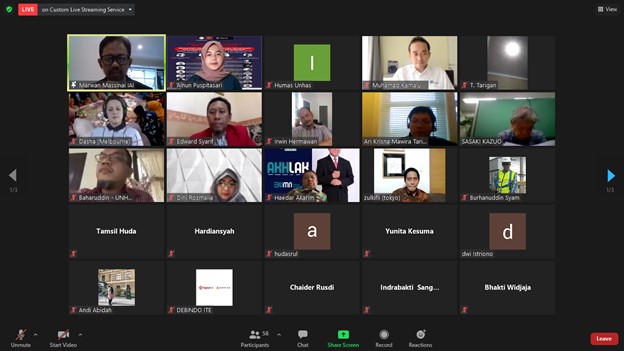 The Faculty of Engineering Alumni Association (Ikatan Alumni Fakultas Teknik/IKA FT) of Universitas Hasanuddin in the Jakarta, Banten, and West Java regions held an international seminar entitled "Seminar on Sustainable Urban Development Enhancing." The topic raised was "Promoting Idea, Concept and New Technology for Building, Transports, and Environment." The activity took place virtually on Zoom Meeting at 14.00 until 18.00 Central Indonesia Time and was attended by more than 100 participants, Sunday (11/10).
Several speakers were invited to this Seminar. They were Dr. Eng. Ari Tarigan, ST., M.Sc (Stavanger University, Norway), K. Sasaki (CEO of Challenge, Co.Ltd, Tokyo, Japan), Dr. Ir. H. M. Baharuddin Hamzah, M.Eng (Universitas Hasanuddin, Indonesia), D. Spasojevic (MADA- Monash Art, Design and Architecture, Melbourne, Australia), William Syahbandar (Director of PT. Mass Rapid Transit MRT Jakarta). Dr. Dini Rosmalia, ST., M.Si (Universitas Pancasila, Indonesia), Ir. Bachder Djohan Buddin, MT (President Director of Sucofindo), Fahmyddin A Tauhid, ST., MArch., DipIDL., Ph.D. (UIN Alauddin, Indonesia), Prasetyo Adi, IAI (Director of PDW Architects, Green Building Council Indonesia), Dr. Techn. Andi Abidah, ST., M.Sc (Universitas Negeri Makassar) dan David Palung, ST., M.Si (Commissioner Krakatau Sulsel).
Marwan Massinal, ST., M.Sc., IAI., as the Chairperson of the IKA FT Unhas Jakarta, Banten, and West Java regions, gave his opening speech by expressing his gratitude to all participants and speakers who joined the seminar. For him, this event was a place to share and discuss sustainable city development.
On the same occasion, the Head of IKA FT Unhas Ir. Haedar A. Karim., expressed his appreciation to the alumni who were active in providing a place to learn, to discuss, and to develop knowledge for students and alumni.
"The topics discussed are very strategic and interesting. Alumni of Engineering Unhas always strives for conducting similar events as a place to enrich knowledge to alumni. Because of the success of a university determined by the role of the alumni," said Haedar.
Representing the Faculty, Head of the Department of Architecture Unhas, Dr. H. Edward Syarif, ST., MT., also gave his appreciation for alumni's active role in providing positive events. This event is expected to strengthen the relationship among alumni of FT Unhas and increase research collaboration.
The Vice-Rector for Research and Innovation Unhas, Prof. dr. Muh. Nasrum Massi, Sp.MK, Ph.D., officially opened the activity. In his speech, he also supported the ideas of Unhas Architecture alumni in providing a discussion forum. This is in line with Unhas's efforts to continuously improve national and international capabilities, which requires alumni participation.
"Unhas continues to improve its level, nationally we are in the seventh position, but in Asia, we are still in the top 400 while in the world we are currently trying to get into the top 1000. Many things have become indicators of assessment, such as academic reputation, faculty-student ratio, and several other indicators that require the involvement of all elements, including alumni," stated Prof. Nasrum.
The event continued with the presentation from the speakers. The activity which was attended by approximately 100 participants went well and ended at 18.00 Wita (*/mir)
Editor: Ishaq Rahman, AMIPR
Head of sub-directorate of Public Relation and Information
Directorate of Communication Hasanuddin University
Translator: Miraya Tifani Hasri and Karmila Mokoginta