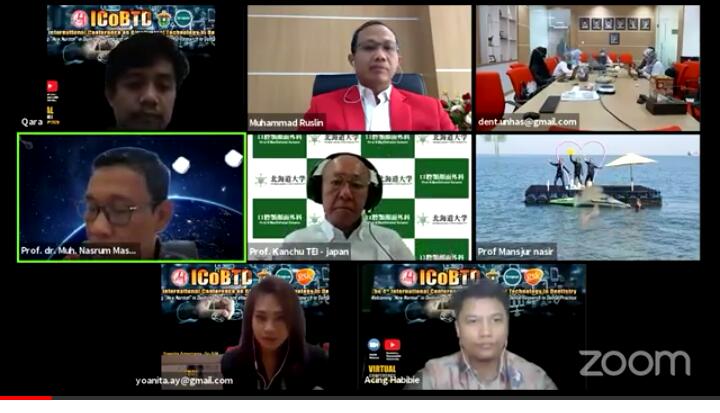 The Faculty of Dentistry (Fakultas Kedokteran Gigi/FKG) of Universitas Hasanuddin (Unhas) held an international conference entitled The 4th International Conference on Biophysical Technology in Dentistry. This year's conference has the theme "Welcoming New Normal in Dentistry During and After Pandemic: From Dental Research to Dental Practice."
The activity started at 09.30 Wita virtually through the zoom meeting application and lived streaming on the FKG Unhas youtube channel on Thursday (27/08).
The activity invited 14 international and national speakers. The speakers included: Prof. Yung-Kang Shen (Taipei Medical University, Taiwan), Aisha A. Hussein Al Jamaei, DDS., M. Sc., Ph.D. (Sana'a University, Yemen), dr. Erlina Burhan, M.Sc., Ph.D., Sp.P (K) (Universitas Indonesia) and drg. Acing Habibie, Ph.D., Sp.Pros (Universitas Hasanuddin).
To start the activity, drg. Al 'Qarama Mahardhika Thalib, on behalf of the committee chairman, expressed his gratitude for the presence of speakers and participants. Even though it is amid a pandemic, we try to keep our efforts to continue the productivity of academic development.
"This activity invited speakers from various levels, both international and national. We hope that through this activity, new information will be obtained regarding how the field of dentistry during and after this pandemic is," explained Qarama.
Dean of the Faculty of Dentistry of Universitas Hasanuddin, drg. Muhammad Ruslin, M.Kes., Ph.D., Sp.BM (K)., said that this conference was the first ICoBDT conference to be held virtually. This is to respond to the Covid-19 pandemic situation, which limits physical meeting rooms in large numbers.
"We also express our gratitude for the support and contribution of the University leaders to the success of ICoBDT. We also apologize if there are any disagreements in the implementation of the activity. Hopefully, this activity will contribute to updating the knowledge and educational information of all participants," explained drg. Ruslin.
Prof. dr. Narsum Massi, Ph.D., the Vice-Chancellor for Research and Innovation of Unhas, officially opened the activity. In his speech, Prof. Nasrum emphasized that university leaders consistently support academic activities, especially those carried out collaboratively.
"We hope that this kind of collaboration will continue to be carried out. Currently, Unhas continues to improve its reputation at the international level with various activities. For example, encouraging participation from all departments and faculties to manage activities that involve many parties," explained Prof. Nasrum.
After the opening, the activity continued to the presentation from the speakers. The presentation was started by Prof. Kanchu TEI (Department of Pathological Science, Hokkaido University, Japan) on "Influence of Covid-19 in Dental Education and Practice in Japan," which generally describes the educational process during the Covid-19 pandemic at Hokkaido University.
This activity is scheduled to last until Saturday (29/08). For the first day, the activity lasts until 17.00 WITA. (* / Mir)
Editor: Ishaq Rahman, AMIPR
Head of sub-directorate of Public Relation and Information
Directorate of Communication Hasanuddin University
Translator: Kumara Tungga Dewa and Karmila Mokoginta8